Certain medical problems such as diabetes mellitus can lead to a higher risk of erection dysfunction and impotence. Diabetes results in a high level of blood sugar due to a lack of effect of the body's insulin. It affects more than 25 million Americans, and roughly 11 percent of all women and around 12 percent of men in the United States become diabetic. Up to half of diabetic men have problems with erection, which can happen from damage to the nerves that supply the penis and erection or from atherosclerosis, which is more common in diabetics.
Another common cause of impotence in men is atherosclerosis, which is hardening of the arteries. This is the process that causes blockages in the coronary arteries that supply the heart muscle itself and can result in heart attack. Atherosclerosis can also affect the arteries leading to or in the brain and cause a stroke. When atherosclerosis affects the arteries of the legs, it can cause blockage of the blood flow, pain in the calf of the leg on walking, and can affect the arteries that supply the penis and are critical for developing an erection.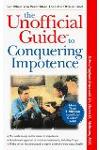 More About this Book
Unofficial Guide to Impotence
The Unofficial Guide to Conquering Impotence delivers the inside scoop on impotence: the truth about Viagra, what treatments really work, and how lifestyle changes can aid in conquering...
Developing a chronic disease often has a ripple effect. That is, one disease can bring on other medical problems. Erectile dysfunction (ED) can be collateral damage related to many other diseases, including:
Cardiovascular disease - High blood pressure
High cholesterol
Diabetes
Multiple sclerosis
Parkinson's disease
This is only a partial list. What's more, medications commonly used to treat certain medical conditions may cause erectile dysfunction. Fortunately, erectile dysfunction usually responds well to treatment, regardless of the cause.
Erectile dysfunction may be the result of many chronic diseases and health conditions. For example, heart disease, diabetes, hypertension, atherosclerosis, and multiple sclerosis can cause ED. Surgery for cancer of the prostate or bladder can result in ED. Also, a spinal cord injury can cause ED.

Along with diseases causing ED, some medications given for these chronic health conditions can cause ED. That's why talking with your doctor about your ED is so important. Your doctor can do a physical examination, order medical tests, and start treating any health condition he or she diagnoses. Along with treatment for diseases, ask your doctor about treatment for ED. There are drugs such as sildenafil (Viagra), vardenafil (Levitra) and tadalafil (Cialis) that are helping millions of men achieve or sustain an adequate erection and enjoy sexual relationships again.
Continue Learning about Erectile Dysfunction Causes