The brain plays an important role in sexual arousal -- it is, after all, our biggest sex organ! A man's ability to get or keep an erection may be influenced by what's going on in and outside the bedroom -- whether at work or at home, such as:
Depression
Anxiety
Stress
Fatigue
Relationship issues
"In my head? No way!" Of course not. No man wants to think that his failure to have an erection is psychological. However, stress and other psychological factors can certainly contribute to erection problems. About 30 percent of cases in some studies were found to be from psychological causes. A common situation is stress aggravating another cause of impotence, such as stress causing blood pressure to shoot up and the hypertension medication causing impotence. Yet there are some cases when the best treatment is psychological counseling to correct the problem.

It is most important simply to be aware of this possibility so that if no other causes are found that this is not ignored as a possibility, since it is treatable. For example, learning a few stress management skills can greatly reduce the way you react to stressful situations in life. This lowering of stress may be just what is needed to solve your erection problem.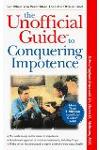 More About this Book
Unofficial Guide to Impotence
The Unofficial Guide to Conquering Impotence delivers the inside scoop on impotence: the truth about Viagra, what treatments really work, and how lifestyle changes can aid in conquering...
Continue Learning about Erectile Dysfunction Causes