Stress and anxiety can adversely affect erections in many ways; if you are scared, it's very difficult to maintain an erection. In this video, I will explain how stress and anxiety can have a negative impact on a man's erection.
When you have anxiety or stress, it creates a state in your body that directly opposes sexual arousal. This can interfere with getting or keeping an erection (or even reaching orgasm for some). Sometimes men are not aware of anxiety that they create for themselves, which may come in the form of doubts or negative thoughts. If you are having difficulties with your erection and have no physical cause for it, then it would be important to explore in what ways anxiety is affecting you. I believe that you owe this to yourself and the future of your sexual functioning.
Continue Learning about Erectile Dysfunction Causes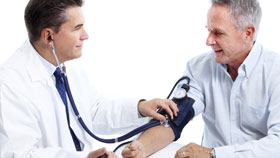 Erectile dysfunction (ED) can have several causes. Erectile function involves a complex relationship between neurologic, vascular, hormonal and psychological components. Speak with your doctor to determine whether your ED may be c...
aused by poor circulation, diabetes, obesity, smoking, medication side effect or stress and anxiety.
More