Erectile dysfunction, or impotence, is the inability to attain and maintain and erection for long enough to achieve penetration, and a good amount of in-and-out action. It can be caused by a number of cancer treatments. In the case of prostate cancer, for example, the surgery employed to take out the cancerous gland can injure the nerves that act as your penis's arousal-related puppet strings. Other operations in the abdomen can also cause nerve damage, or do damage to the blood vessels that carry blood to the penis. And the removal of one or both of your testicles -- or even the use of hormonal drugs -- can lower your testosterone levels, making it difficult to become aroused.

And these concrete, physical issues aren't the only things that can hamper an erection. The stress from your cancer diagnosis, and the subsequent treatments you've had to suffer through, not to mention their masculinity-damaging side effects, can cause a serious case of performance anxiety, and a poor self-image.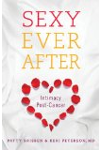 More About this Book
Sexy Ever After: Intimacy Post-Cancer
Recent studies show that 40-100 percent of men and women who have been treated for cancer have experienced some level of sexual dysfunction. Sexy Ever After: Intimacy Post-Cancer will help you...
Continue Learning about Erectile Dysfunction Causes