Loss of libido and erectile dysfunction are common in depression, due to symptoms of the condition, and also due to side effects from antidepressant medications. In this video, psychiatrist Sudeepta Varma, MD, explains why these issues occur.
Depression often causes loss of libido (the desire to have sex) in both men and women. In men, it can also cause erectile dysfunction (ED), the inability to get or sustain an erection. While many cases of ED have physical causes, including heart disease, what's going on inside you emotionally can also throw a wrench into a healthy sex life. Ironically, so can some of the medications that you take for depression. If you have trouble with erections more than 25% of the time, talk to your doctor to help figure out what is going on and how to get help.
Men who are depressed often experience loss of libido (sexual desire) and have trouble getting and maintaining an erection. Erectile dysfunction (ED) is also a common side effect of some medications used to treat depression. It's a good idea to talk to your doctor if you think you are depressed, or are taking an antidepressant and have experienced loss of sexual desire or have problems with sexual function.
Wouldn't it be depressing if the very meds that lift the dark cloud of depression also lowered your libido and ability to perform sexually? Unfortunately, that's often the case. Many antidepressants are effective at treating depression, but they also cause low libido and even outright erectile dysfunction (ED) as a side effect. Selective serotonin reuptake inhibitors (SSRIs), the most commonly prescribed class of antidepressants that includes Prozac may be the worst offenders. What to do? Don't just stop taking your antidepressant. That can be dangerous if you do so cold turkey. Instead, work with your doc to create a solution for you. One approach may be to try a lower dose of the drug, as side effects may be lower. Another approach is to switch medications, since not every antidepressant is associated with ED. If an SSRI is working for you in general but not in the bedroom, you may combine approaches by reducing your dose and adding another antidepressant like bupropion (Aplenzin), which is generally not associated with an ED side effect. Just don't do it alone. Work with your good doc to find a way to lift your depression with medications and therapy, in ways that make it easier for you to be sexually satisfied. It's what you and your partner deserve.
Depression is a cause of erectile dysfunction. Up to 90 percent of depressed men suffer from some type of erection problem. In the past, many doctors failed to recognize depression in male patients, and often treated them with anxiety medications or told them to reduce their stress. Because of our tumultuous corporate world, the rate of depression today is rising faster among men than women, with more successful professional men in their 30s and 40s reporting having this problem.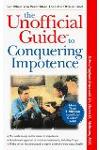 More About this Book
Unofficial Guide to Impotence
The Unofficial Guide to Conquering Impotence delivers the inside scoop on impotence: the truth about Viagra, what treatments really work, and how lifestyle changes can aid in conquering...
Continue Learning about Erectile Dysfunction Causes