People who have a family history of allergies are very susceptible to mold allergy. This is true even if your family members had a different type of allergy. People with weakened immune systems are also more susceptible to mold allergies. This can include patients who are taking immune-suppressing drugs as well as those who are on chemotherapy. Also, if you work in an occupation with increased mold exposure, or if you live in a home with water damage and poor ventilation, you're more likely to develop mold allergy symptoms.
Continue Learning about Environmental Allergies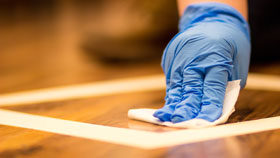 With environmental allergies, reducing your exposure to whatever is irritating you is key. Some people are allergic to household cleaners such as laundry detergent, hence the many varieties of mild detergent. With common irritants ...
like mold and dust, a cleaning routine can help. Reduce mold by removing houseplants, using a dehumidifier, avoiding carpet in the bathroom and cleaning indoor trash cans and shower curtains with a mix of water and chlorine bleach. Reduce dust by replacing carpets with wood or linoleum, removing drapes and feather pillows, regularly vacuuming soft furniture and floors, and washing bedding weekly.
More