The majority of those affected by latex allergy develop only localized symptoms such as skin irritation and burning, itchiness, redness and/or swelling of the hands or those areas exposed to the latex. Next are those unlucky allergic people who may have reactions that are more serious and progressive.
Symptoms of a latex allergy can vary from very mild itching or redness of skin in the area that was touched by the latex, which is the most common type of reaction, to a very severe anaphylactic reaction in which the person has difficulty breathing. There is also a wide range of reactions in between. The most common symptom of latex allergy is a rash in any area that has come in contact with the latex for a length of time. The rash may be red, may swell, may itch and may even have small hives or blisters on it.
The following are signs of a latex allergy:
Red skin or bump after touching rubber
Itchy or swollen lips after a dental visit
Runny or itchy eyes after touching rubber
Pain or a tight feeling in the chest
Trouble breathing
Any of the above signs after playing with balloons
If you notice any of these signs, call your health care provider right away.
Continue Learning about Environmental Allergies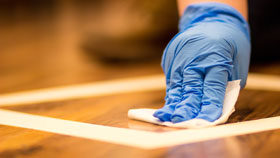 With environmental allergies, reducing your exposure to whatever is irritating you is key. Some people are allergic to household cleaners such as laundry detergent, hence the many varieties of mild detergent. With common irritants ...
like mold and dust, a cleaning routine can help. Reduce mold by removing houseplants, using a dehumidifier, avoiding carpet in the bathroom and cleaning indoor trash cans and shower curtains with a mix of water and chlorine bleach. Reduce dust by replacing carpets with wood or linoleum, removing drapes and feather pillows, regularly vacuuming soft furniture and floors, and washing bedding weekly.
More