People with non-celiac gluten sensitivity (NCGS) are very sensitive to wheat products without having full-blown celiac disease. They report symptoms such as diarrhea, gas and bloating, headaches, fatigue and skin rashes. Researchers tested cells from people with these symptoms and found there was no reaction to gluten. They concluded that their symptoms were not caused by gluten but rather by a mechanism that is not fully understood. Some doctors believe that there are other toxins in the wheat, rye and barley besides gluten that can stimulate the gut to cause symptoms. A gluten-free diet for people with NCGS can be helpful.
Continue Learning about Environmental Allergies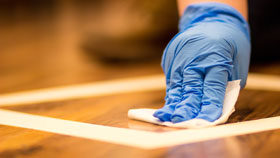 With environmental allergies, reducing your exposure to whatever is irritating you is key. Some people are allergic to household cleaners such as laundry detergent, hence the many varieties of mild detergent. With common irritants ...
like mold and dust, a cleaning routine can help. Reduce mold by removing houseplants, using a dehumidifier, avoiding carpet in the bathroom and cleaning indoor trash cans and shower curtains with a mix of water and chlorine bleach. Reduce dust by replacing carpets with wood or linoleum, removing drapes and feather pillows, regularly vacuuming soft furniture and floors, and washing bedding weekly.
More