Seasonal allergies can make you feel crummy, but there are lots of simple things you can do to help prevent bothersome symptoms, says allergy specialist Dr. Clifford Bassett. To find out why wearing movie star sunglasses can help you avoid allergy problems, watch this video.
Go natural and try using nasal irrigation to cleanse and clear your sinuses. Nasal irrigation with the use of a Neti (sinus)-pot works well. You can even make your own salt water solution (try using Himalayan salt -- the purest on earth with many vital minerals) with 16 oz of lukewarm purified water and 1 teaspoon of Himalayan salt (available from most natural products markets).

Acupuncture is also effective in treating headaches and neck discomfort associated with allergies. Try to avoid the use of allergy medications that suppress your immune system and have side effects like increasing blood pressure, making you feel anxious or excessively tired.
Continue Learning about Environmental Allergies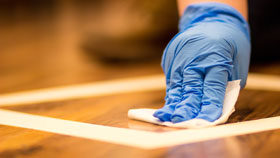 With environmental allergies, reducing your exposure to whatever is irritating you is key. Some people are allergic to household cleaners such as laundry detergent, hence the many varieties of mild detergent. With common irritants ...
like mold and dust, a cleaning routine can help. Reduce mold by removing houseplants, using a dehumidifier, avoiding carpet in the bathroom and cleaning indoor trash cans and shower curtains with a mix of water and chlorine bleach. Reduce dust by replacing carpets with wood or linoleum, removing drapes and feather pillows, regularly vacuuming soft furniture and floors, and washing bedding weekly.
More