Typical symptoms of an insect sting include redness, swelling, and itching. However, someone with an allergic reaction to a sting may develop a large area of swelling on the skin, hives, swelling of the tongue or throat, difficulty breathing, dizziness, stomach cramps, nausea or diarrhea. In severe cases, a person may develop anaphylaxis, which is a rapid drop in blood pressure causing shock and loss of consciousness. Anaphylaxis is a medical emergency and requires immediate medical attention (call 911). If you are severely allergic to insect stings, you may need to carry an epinephrine pen with you at all times. Epinephrine is used as a rescue medication in case you get stung.
Sometimes, people do not develop anaphylaxis the first time they are stung and it is the second or third time that causes the reaction. Stinging insects include yellow jacket, honeybees and bumble bees, wasps, hornets, and fire ants.
Continue Learning about Environmental Allergies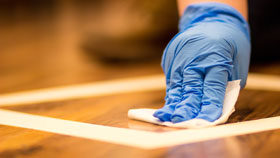 With environmental allergies, reducing your exposure to whatever is irritating you is key. Some people are allergic to household cleaners such as laundry detergent, hence the many varieties of mild detergent. With common irritants ...
like mold and dust, a cleaning routine can help. Reduce mold by removing houseplants, using a dehumidifier, avoiding carpet in the bathroom and cleaning indoor trash cans and shower curtains with a mix of water and chlorine bleach. Reduce dust by replacing carpets with wood or linoleum, removing drapes and feather pillows, regularly vacuuming soft furniture and floors, and washing bedding weekly.
More