The best thing you can do to treat your mold allergy is avoid breathing in mold spores. Unfortunately, it is unrealistic to expect to avoid an airborne allergen as common as mold, so your next best option is medication. Though medications can't prevent mold allergy, there's a wide variety of treatment options that will help relieve symptoms. Nasal sprays that contain antihistamines or corticosteroids can help treat inflammation, congestion, sneezing and runny nose. Antihistamines, decongestants and montelukast can be taken by mouth to help relieve sneezing and a runny or stuffy nose. These medications are commonly prescribed because they usually help relieve symptoms within a few days, generally don't cause many side effects, and are safe for patients to use on a long-term basis. A course of allergy shots (immunotherapy) may help, but they're not as effective with mold allergy as they are with other types of allergies.
Alternative treatments include herbal supplements and special diets, though their effectiveness hasn't been proven.
Continue Learning about Environmental Allergies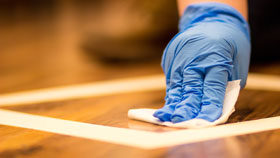 With environmental allergies, reducing your exposure to whatever is irritating you is key. Some people are allergic to household cleaners such as laundry detergent, hence the many varieties of mild detergent. With common irritants ...
like mold and dust, a cleaning routine can help. Reduce mold by removing houseplants, using a dehumidifier, avoiding carpet in the bathroom and cleaning indoor trash cans and shower curtains with a mix of water and chlorine bleach. Reduce dust by replacing carpets with wood or linoleum, removing drapes and feather pillows, regularly vacuuming soft furniture and floors, and washing bedding weekly.
More