If you have a mold allergy, one way you can reduce your symptoms is by avoiding mold as much as possible. This doesn't mean you can't go outside, though, as long as you follow proper precautions. If you do go outside, consider wearing a face mask when doing yard work. Avoid going outside right after a rainstorm or during other foggy, wet conditions, since mold is very active during those times. Mold spores are also more prevalent at night, so try not to spend time outdoors at night, and keep bedroom windows closed overnight, too.
To reduce your exposure to mold:
Use central air conditioning (not a swamp cooler!) during the summer months. Don't use a humidifier.
Increase ventilation in damp areas (kitchen, bathrooms, etc.) by installing exhaust fans.
Regularly clean mold-prone areas with a cleaner that has bleach in it.
Limit the number of house plants you keep in your home.
Shake excess water off of shower curtains. Don't let water collect in dish drainers, plant trays, or refrigerator drip pans.
If your home has persistent mold growth from water damage, you'll need to replace the damaged area. For example, you may need to replace damaged wallboard inside a wall.
Continue Learning about Environmental Allergies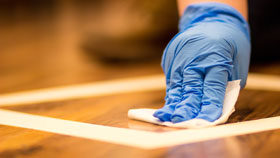 With environmental allergies, reducing your exposure to whatever is irritating you is key. Some people are allergic to household cleaners such as laundry detergent, hence the many varieties of mild detergent. With common irritants ...
like mold and dust, a cleaning routine can help. Reduce mold by removing houseplants, using a dehumidifier, avoiding carpet in the bathroom and cleaning indoor trash cans and shower curtains with a mix of water and chlorine bleach. Reduce dust by replacing carpets with wood or linoleum, removing drapes and feather pillows, regularly vacuuming soft furniture and floors, and washing bedding weekly.
More