Synthetic materials are much less likely than natural fibers to attract and hold mold spores within your home or workplace. Whenever possible, use synthetic fabrics for things like clothing, bedding, furniture covers and curtains. Examples of synthetic materials include polyester, nylon and acrylic.
Mold spores absolutely love moisture! They often grow on decaying vegetation or on the ground, so victims are likely inhale them while cleaning the basement, mowing the lawn, and raking leaves. Molds become airborne when you stir things up, but they can also enter your life via a breeze blowing through your open windows.
Prime indoor mold real estate includes bathtubs, dirty laundry hampers, old newspaper piles, carpeting, fireplace logs, bathrooms, houseplant soil, foam rubber mattresses and pillows, and dark, damp basements. Leaky pipes or windows speed mold development, especially if water gets on your carpet. Humidifiers and vaporizers can also serve as a major source of mold indoors.
Mold spores also love to travel. Air-conditioning vents in your home and your car have the best seating.
Continue Learning about Environmental Allergies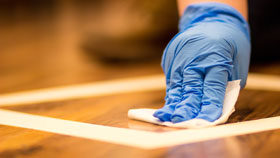 With environmental allergies, reducing your exposure to whatever is irritating you is key. Some people are allergic to household cleaners such as laundry detergent, hence the many varieties of mild detergent. With common irritants ...
like mold and dust, a cleaning routine can help. Reduce mold by removing houseplants, using a dehumidifier, avoiding carpet in the bathroom and cleaning indoor trash cans and shower curtains with a mix of water and chlorine bleach. Reduce dust by replacing carpets with wood or linoleum, removing drapes and feather pillows, regularly vacuuming soft furniture and floors, and washing bedding weekly.
More