Seasonal allergies, sometimes called "hay fever," are not a simple nuisance. "If left untreated, allergies can noticeably impair a child's ability to learn and play," says Maria Garcia-Lloret, M.D., pediatric allergy/immunology and rheumatology specialist at Mattel Children's Hospital UCLA. A child with a runny nose and itchy eyes is usually restless and does not pay attention. Severe nasal congestion usually leads to trouble sleeping and daytime sleepiness or inattentiveness. In severe cases, allergies can also cause an asthma attack.
Continue Learning about Environmental Allergies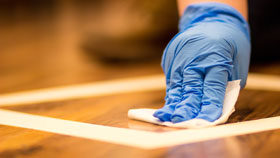 With environmental allergies, reducing your exposure to whatever is irritating you is key. Some people are allergic to household cleaners such as laundry detergent, hence the many varieties of mild detergent. With common irritants ...
like mold and dust, a cleaning routine can help. Reduce mold by removing houseplants, using a dehumidifier, avoiding carpet in the bathroom and cleaning indoor trash cans and shower curtains with a mix of water and chlorine bleach. Reduce dust by replacing carpets with wood or linoleum, removing drapes and feather pillows, regularly vacuuming soft furniture and floors, and washing bedding weekly.
More