There is no cure for allergies. The best thing you can do is help your child stay away from latex items.
Keep your child away from latex. For example, use Mylar balloons instead of latex balloons. Use vinyl or plastic gloves instead of rubber gloves. Provide your child with plastic or vinyl toys.
Let all healthcare workers know about your child's allergy. Be sure your child's allergy is written in his or her medical chart. The hospital should use non-latex products with your child. For example, they should use plastic catheters and silk tape.
Avoid using latex urinary catheters, red rubber catheters used for irrigations, and enema tubes.
Talk with your doctor or nurse about a MedicAlert bracelet for your child.
Talk with your doctor or nurse about emergency medicine that you can keep at home in case your child needs it. Make sure the syringe doesn't contain latex.
Some children may be more likely to become allergic to latex than others. These children tend to have one or more of the following characteristics:
Multiple operations since birth
Spina bifida
Birth defects of the genito-urinary system
Food allergies, especially to bananas, kiwis, tomatoes, peaches and cherries
Continue Learning about Environmental Allergies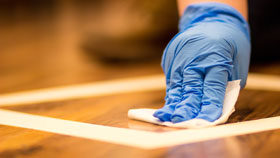 With environmental allergies, reducing your exposure to whatever is irritating you is key. Some people are allergic to household cleaners such as laundry detergent, hence the many varieties of mild detergent. With common irritants ...
like mold and dust, a cleaning routine can help. Reduce mold by removing houseplants, using a dehumidifier, avoiding carpet in the bathroom and cleaning indoor trash cans and shower curtains with a mix of water and chlorine bleach. Reduce dust by replacing carpets with wood or linoleum, removing drapes and feather pillows, regularly vacuuming soft furniture and floors, and washing bedding weekly.
More