Droppings and remains from cockroaches may cause an allergic reaction and asthma symptoms in some people.
Although cockroaches scurry away when the kitchen lights come on, they leave behind droppings in the form of tiny pellets. The feces contain a digestive enzyme that is thought to be an allergen. And if that is not enough, consider this: Dead roach body parts, which are known to be allergens, adhere to dust particles. These, in turn, become airborne and can cause an allergic reaction when they enter the lungs, eyes and nose. Extermination can increase the problem because there will be more dead body parts in the dust. For allergy-friendly roach control, it's best to use traps.
Like dust mites, cockroaches enjoy a warm, humid environment. Not all cockroaches choose a life indoors, but the ones who enter homes to find food will live in any room, not just the kitchen.
Continue Learning about Environmental Allergies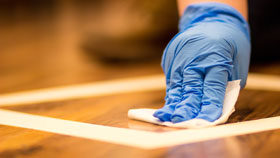 With environmental allergies, reducing your exposure to whatever is irritating you is key. Some people are allergic to household cleaners such as laundry detergent, hence the many varieties of mild detergent. With common irritants ...
like mold and dust, a cleaning routine can help. Reduce mold by removing houseplants, using a dehumidifier, avoiding carpet in the bathroom and cleaning indoor trash cans and shower curtains with a mix of water and chlorine bleach. Reduce dust by replacing carpets with wood or linoleum, removing drapes and feather pillows, regularly vacuuming soft furniture and floors, and washing bedding weekly.
More