Common allergy symptoms include sniffing, sneezing, watery or itchy eyes, coughing, fatigue, sleep disturbances, itchy ears and more. It is important to treat your allergy symptoms to prevent worsening sinus infections from developing.

When people come to see me with recurrent sinus infections, I often consider under-treated allergies as the culprit. The congestion from allergies becomes a fertile ground upon which viruses and bacteria can multiply. If we eliminate the foundation, often the infections will have no place to "set up camp."
Environmental allergies such as allergies to pollen and grasses will cause an allergic reaction that includes inflammation of the throat and sinuses. While allergies do not directly cause infections, the inflammation from allergies can decrease the body's ability to properly drain the sinuses, which may progress into an infection if not treated.

Continue Learning about Environmental Allergies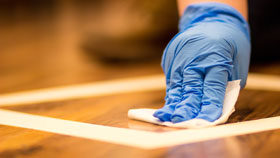 With environmental allergies, reducing your exposure to whatever is irritating you is key. Some people are allergic to household cleaners such as laundry detergent, hence the many varieties of mild detergent. With common irritants ...
like mold and dust, a cleaning routine can help. Reduce mold by removing houseplants, using a dehumidifier, avoiding carpet in the bathroom and cleaning indoor trash cans and shower curtains with a mix of water and chlorine bleach. Reduce dust by replacing carpets with wood or linoleum, removing drapes and feather pillows, regularly vacuuming soft furniture and floors, and washing bedding weekly.
More