Doctors recommend that people with mold allergy use a dehumidifier in their homes. A dehumidifier is an easy and effective way to reduce the amount of humidity and moisture in your home, especially in high-humidity areas like basements and bathrooms. Keeping your home as dry as possible will help reduce the amount of mold in your home. Make sure to properly clean your dehumidifier, since they can actually be a source of mold if not properly maintained.
Also, special air filters can be very effective in helping you avoid mold spores and preventing mold allergy symptoms. Certain air filters called high-efficiency particulate air filters (or HEPA filters) can help trap any mold spores that come through them. Make sure you install these filters on air conditioning systems within your home, and make sure you change them frequently.
Continue Learning about Environmental Allergies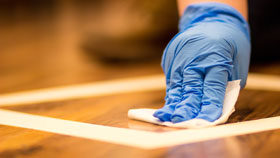 With environmental allergies, reducing your exposure to whatever is irritating you is key. Some people are allergic to household cleaners such as laundry detergent, hence the many varieties of mild detergent. With common irritants ...
like mold and dust, a cleaning routine can help. Reduce mold by removing houseplants, using a dehumidifier, avoiding carpet in the bathroom and cleaning indoor trash cans and shower curtains with a mix of water and chlorine bleach. Reduce dust by replacing carpets with wood or linoleum, removing drapes and feather pillows, regularly vacuuming soft furniture and floors, and washing bedding weekly.
More