Mold allergy can be caused by exposure to several different kinds of molds, including penicillium, cladosporium, alternaria and aspergillus. Allergies begin when your body is exposed to mold spores and labels them as intruders. The next time you breathe in mold spores, your body remembers that it considers them dangerous and releases a chemical called histamine that causes symptoms of an allergic reaction.
Family history of allergies is the main risk factor for developing mold allergy. That is, if your parents have had any type of allergy, it's more likely that you will develop mold allergy. Other conditions may increase your risk of allergic reactions if you already have a mold allergy. High humidity and poor ventilation in your home encourages mold growth in areas such as basements, kitchens and bathrooms. Water damage may also lead to excessive moisture that encourages mold growth. Your job can aggravate your mold allergy, too. Occupations involving farming, baking, milling, woodwork, logging and winemaking may all increase your exposure to mold.
In order to best prevent symptoms of mold allergy, you should be aware of some common places where excessive mold growth may increase your exposure to mold spores. Since mold grows in damp locations, possible mold hotspots in your home may include the bathroom and the basement. Make sure these areas are well-ventilated and cleaned often. Certain household items such as books, rugs, toys, fabrics, wallpaper and rugs frequently hold mold spores and should be cleaned on a regular basis. Outdoors, be aware that common places for mold to accumulate include compost piles, damp leaves, and mud or dirt.
Continue Learning about Environmental Allergies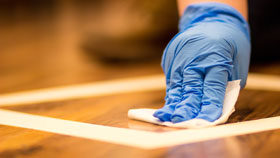 With environmental allergies, reducing your exposure to whatever is irritating you is key. Some people are allergic to household cleaners such as laundry detergent, hence the many varieties of mild detergent. With common irritants ...
like mold and dust, a cleaning routine can help. Reduce mold by removing houseplants, using a dehumidifier, avoiding carpet in the bathroom and cleaning indoor trash cans and shower curtains with a mix of water and chlorine bleach. Reduce dust by replacing carpets with wood or linoleum, removing drapes and feather pillows, regularly vacuuming soft furniture and floors, and washing bedding weekly.
More