Yes, a non celiac gluten sensitivity can surely be managed with diet. It's actually the only way to truly treat this autoimmune reaction to gluten. You want to avoid gluten containing foods if you react to this protein. To learn more, read
this
. If symptoms worsen after avoiding gluten, please seek the care of a gastrointestinal MD.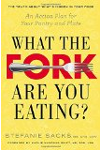 More About this Book
What the Fork Are You Eating?: An Action Plan for Your Pantry and Plate
It's labeled "natural," "grass-fed," or "free-roaming;" yet it might be anything but. It's time to find out what you're actually eating... When your groceries are labeled "low-fat," "sugar-free," and even "natural" and "antibiotic-free," it's easy to assume that you're making healthy choices. Yet even some of those seemingly wholesome offerings contain chemical preservatives, pesticides, and artificial flavors and coloring that negatively affect your health. In What the Fork Are You Eating?, a practical guide written by certified chef and nutritionist Stefanie Sacks, MS, CNS, CDN, we learn exactly what the most offensive ingredients in our food are and how we can remove (or at least minimize) them in our diets. Sacks gives us an aisle-by-aisle rundown of how to shop for healthier items and create simple, nutritious, and delicious meals, including fifty original recipes.  
If you have been diagnosed with non-celiac gluten sensitivity (NCGS), start on gluten-free diet of vegetables, fruits, chicken, fish and red meat (if your cholesterol is not too high). Let things settle down for three to four weeks, and then start adding back foods to your diet one by one until you get a reaction. If that happens, eliminate this food from your diet and continue adding foods back one by one.
Continue Learning about Environmental Allergies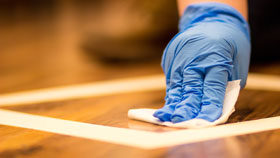 With environmental allergies, reducing your exposure to whatever is irritating you is key. Some people are allergic to household cleaners such as laundry detergent, hence the many varieties of mild detergent. With common irritants ...
like mold and dust, a cleaning routine can help. Reduce mold by removing houseplants, using a dehumidifier, avoiding carpet in the bathroom and cleaning indoor trash cans and shower curtains with a mix of water and chlorine bleach. Reduce dust by replacing carpets with wood or linoleum, removing drapes and feather pillows, regularly vacuuming soft furniture and floors, and washing bedding weekly.
More