People who have allergic reactions should take steps to avoid coming into contact with allergens (the substances to which they are allergic). The most common environmental allergens are dust mites, mold, pet dander and pollen. To avoid these, use hard flooring instead of carpet, vacuum often, wash sheets in hot water and use dust mite pillow and mattress covers. Also close your windows, avoid the outdoors on wet, windy or high pollen days, and wear a dust mask if necessary.
Even though you can limit allergy symptoms if you avoid the substance to which you are allergic, unfortunately, there is no known way to prevent environmental allergies.
Continue Learning about Environmental Allergies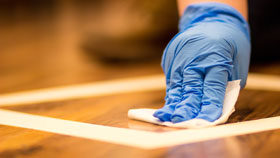 With environmental allergies, reducing your exposure to whatever is irritating you is key. Some people are allergic to household cleaners such as laundry detergent, hence the many varieties of mild detergent. With common irritants ...
like mold and dust, a cleaning routine can help. Reduce mold by removing houseplants, using a dehumidifier, avoiding carpet in the bathroom and cleaning indoor trash cans and shower curtains with a mix of water and chlorine bleach. Reduce dust by replacing carpets with wood or linoleum, removing drapes and feather pillows, regularly vacuuming soft furniture and floors, and washing bedding weekly.
More