Infants, children and teenagers are at higher risk than adults for getting infected and sick with enteroviruses like EV-D68 because they have not been exposed to these types of viruses before, and they do not yet have immunity (protection) built up to fight the disease. Adults can get infected with enteroviruses, but they are more likely to have no symptoms or mild symptoms.

Children with asthma may have a higher risk for severe respiratory illness caused by EV-D68 infection.

Infections with enteroviruses are usually common in the United States during summer and fall. CDC expects that, as with other enteroviruses, EV-D68 infections will likely begin to decline by late fall.

The presence of the CDC logo and CDC content on this page should not be construed to imply endorsement by the US Government of any commercial products or services, or to replace the advice of a medical professional. The mark "CDC" is licensed under authority of the PHS.
Children are more vulnerable to enterovirus D68 because their immunity is not as robust as adults. Watch as pediatric infectious disease specialist Gail Shust, MD, discusses the age range of the kids that have been most susceptible to the virus.
Continue Learning about Enterovirus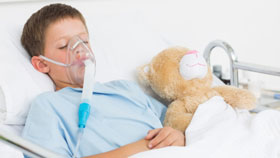 Enterovirus D68 (EV-D68) usually causes only a runny nose, sneezing, coughing and fever. But a 2014 outbreak has caused severe respiratory illness in more children than usual, especially kids with asthma.