The biggest risk population for enterovirus D68 is children and teens. Those people who have previous lung problems are likely to be the sickest, such as those with asthma or other lung disease.
In general, infants, children and teenagers are most likely to get infected with enteroviruses and become ill. Enterovirus D68 is just one of about 100 enteroviruses (non-polio), and a mix of them circulate at any one time. Children are more susceptible to them because they don't yet have immunity (protection) from previous exposures to these viruses. Adults can get infected with enteroviruses, including enterovirus D68, but they are more likely to have no symptoms or mild symptoms.

Children with asthma may have a higher risk for severe respiratory illness caused by enterovirus D68 infection.

The presence of the CDC logo and CDC content on this page should not be construed to imply endorsement by the US Government of any commercial products or services, or to replace the advice of a medical professional. The mark "CDC" is licensed under authority of the PHS.
Continue Learning about Enterovirus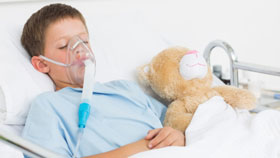 Enterovirus D68 (EV-D68) usually causes only a runny nose, sneezing, coughing and fever. But a 2014 outbreak has caused severe respiratory illness in more children than usual, especially kids with asthma.