Children with asthma are at higher risk for severe symptoms from enterovirus D68 (EV-D68) infection and other respiratory illnesses. Parents should follow guidelines from the Centers for Disease Control and Prevention (CDC) to maintain control of their child's illness.
The CDC recommends that you:
Discuss and update your asthma action plan with your child's primary care provider.
Be sure that your child takes prescribed asthma medications as directed, especially long-term control medication(s).
Be sure that your child keeps his reliever medication with him at all times.
Get your child a flu shot when it's available.
If your child develops new or worsening asthma symptoms, follow the steps of the asthma action plan. If the symptoms don't go away, call your child's doctor right away.
Parents should make sure the child's caregiver is aware of his condition -- and know how to help if your child experiences any symptoms related to asthma.
Naturally, you should follow these guidelines yourself if you have asthma and become infected by enterovirus D68.
The presence of the CDC logo and CDC content on this page should not be construed to imply endorsement by the US Government of any commercial products or services, or to replace the advice of a medical professional. The mark "CDC" is licensed under authority of the PHS.
Enterovirus D68 is more dangerous for children who have an underlying respiratory condition, like asthma. In this video, pediatrician Alan Greene, MD, discusses how children's less-developed immune systems and smaller airways also increase risk.
Continue Learning about Enterovirus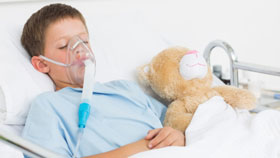 Enterovirus D68 (EV-D68) usually causes only a runny nose, sneezing, coughing and fever. But a 2014 outbreak has caused severe respiratory illness in more children than usual, especially kids with asthma.