Enteroviruses are a genus of virus, meaning they are a large family of viruses that include many that infect humans on a regular basis. Enteroviruses can cause many different illnesses including hand, foot and mouth disease; meningitis; upper and lower respiratory illnesses (which can be mild like the common cold or severe); and gastrointestinal illnesses such as diarrhea.
Enterovirus is a group of viruses that includes polio, which has been eradicated from the US. Watch pediatrician Lisa Thornton, MD, describe the typical symptoms of enterovirus, and concerns about a new enterovirus recently discovered in California.
Continue Learning about Enterovirus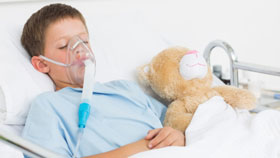 Enterovirus D68 (EV-D68) usually causes only a runny nose, sneezing, coughing and fever. But a 2014 outbreak has caused severe respiratory illness in more children than usual, especially kids with asthma.