To help avoid catching and spreading enterovirus D68 (EV-D68) and other respiratory viruses, parents and children should always follow basic steps to stay healthy.
Wash hands often with soap and water for 20 seconds. Washing hands correctly is the most important thing you can do to stay healthy.
Avoid touching eyes, nose and mouth with unwashed hands.
Avoid close contact, such as kissing, hugging, and sharing cups or eating utensils, with people who are sick.
Cover your coughs and sneezes with a tissue or shirt sleeve, not your hands.
Clean and disinfect frequently touched surfaces, such as toys and doorknobs, especially if someone is sick.
Stay home when you are sick and keep sick children out of school.
The presence of the CDC logo and CDC content on this page should not be construed to imply endorsement by the US Government of any commercial products or services, or to replace the advice of a medical professional. The mark "CDC" is licensed under authority of the PHS.
Hygiene tips that can help protect children from enterovirus D68 include thorough hand washing, not touching the face and keeping kids home if they are sick. Watch pediatric infectious disease specialist Gail Shust, MD, share some prevention advice.
Continue Learning about Enterovirus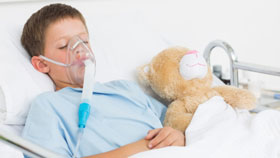 Enterovirus D68 (EV-D68) usually causes only a runny nose, sneezing, coughing and fever. But a 2014 outbreak has caused severe respiratory illness in more children than usual, especially kids with asthma.