There is a test that can diagnose enterovirus D68, but results take a while to get and treatment for symptoms is the same regardless of the underlying virus. Watch pediatrician Lisa Thornton, MD, explain why your child's doctor may not use this test.
Continue Learning about Enterovirus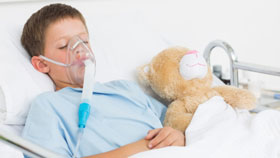 Enterovirus D68 (EV-D68) usually causes only a runny nose, sneezing, coughing and fever. But a 2014 outbreak has caused severe respiratory illness in more children than usual, especially kids with asthma.