Whether or not enterovirus D68 is causing your child's symptoms is less crucial than treating the symptoms themselves. Watch pediatrician Lisa Thornton, MD, explain why treating symptoms is much more important than determining the underlying virus.
Continue Learning about Enterovirus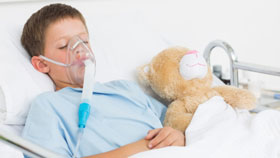 Enterovirus D68 (EV-D68) usually causes only a runny nose, sneezing, coughing and fever. But a 2014 outbreak has caused severe respiratory illness in more children than usual, especially kids with asthma.