Since enterovirus D68 (EV-D68) causes respiratory illness, the virus can be found in an infected person's respiratory secretions, such as saliva, nasal mucus or sputum. Enterovirus D68 likely spreads from person to person when an infected person coughs, sneezes or touches a surface that is then touched by others. People are more likely to get infected with enteroviruses in the summer and fall. Cases are likely to decline by late fall.

The presence of the CDC logo and CDC content on this page should not be construed to imply endorsement by the US Government of any commercial products or services, or to replace the advice of a medical professional. The mark "CDC" is licensed under authority of the PHS.
Continue Learning about Enterovirus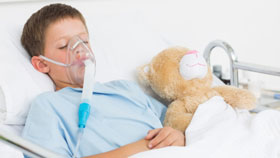 Enterovirus D68 (EV-D68) usually causes only a runny nose, sneezing, coughing and fever. But a 2014 outbreak has caused severe respiratory illness in more children than usual, especially kids with asthma.