Enterovirus D68 (EV-D68) is one of more than 100 non-polio enteroviruses that have been recognized. In general, a mix of enteroviruses circulates every year, and different types of enteroviruses can be common in different years. Small numbers of enterovirus D68 (EV-D68) infection have been reported regularly to the Centers for Disease Control and Prevention (CDC) since 1987. However, in 2014 the number of people reported with confirmed EV-D68 infection is much greater than that reported in previous years.

The presence of the CDC logo and CDC content on this page should not be construed to imply endorsement by the US Government of any commercial products or services, or to replace the advice of a medical professional. The mark "CDC" is licensed under authority of the PHS.
Continue Learning about Enterovirus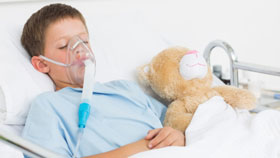 Enterovirus D68 (EV-D68) usually causes only a runny nose, sneezing, coughing and fever. But a 2014 outbreak has caused severe respiratory illness in more children than usual, especially kids with asthma.