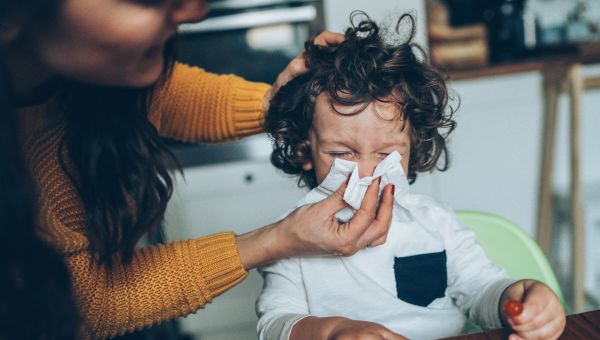 You may have heard or read about the respiratory illness that has required the hospitalization of children (sometimes in the intensive care unit) in ten states. In mid-August, a hospital in Missouri saw an increase in children with severe respiratory illnesses and had them tested for Enterovirus D68 (also called EV-D68). A few days later, the Centers for Disease Control and Prevention (CDC) was notified by another hospital in Chicago of a similar increase. These numbers are bound to change as the virus spreads.
Do you need to be worried? Read below for answers to the most common questions about this outbreak and what you can do to protect your family.
1. What is EV-D68?
Enterovirus D68 is a rare virus most commonly found in children. It primarily causes mild to severe respiratory illnesses. What's unusual about this outbreak is the number of children who are getting it and the severity of their illness.
The virus itself belongs to a "family" of enteroviruses that cause 10 to 15 million infections in the U.S. each year. Usually enteroviruses just cause a bad cold and don't warrant a trip to the ER, let alone a hospitalization. Rarely, enteroviruses can cause other illnesses such as a rash with fever and more severe illness such as meningitis and encephalitis.
2. What are the symptoms?
It initially starts as a cold, maybe with a cough. Most children with a common cold will be fine and not need to go to the hospital. But if your child is younger than 5, has allergies, asthma or any other chronic medical condition they are at higher risk.
3. What are red flags to watch for?
If your child has difficulty breathing, have him or her evaluated by a doctor right away. Signs of difficulty breathing include:
Breathing rapidly (children under 12 months usually breathe about 35 to 45 times per minute; children between the ages of one and two breathe at rates in the 30s; 3-to 8-year-olds usually breathe at rates in the 20s)
Flaring nostrils
Straining of the muscles —in the neck, above the clavicle or retractions of the muscles in the chest/abdomen
Wheezing
Additional red flags:
If your child has a high fever, is lethargic or has any other concerning signs, seek medical care. Children with bad allergies and asthma should also be seen by their doctor.
4. What's the treatment?
There's no specific "cure" for EV-D68. As we see with many viral illnesses (including ones like Ebola), the key is "supportive care" – that is, giving the body what it needs to support its system while it defeats the virus itself. In cases requiring hospitalization, this means IV fluids and breathing treatments. In more severe cases, this can include breathing tubes and ventilators to breathe for the patient while the body has time to heal itself.
5. Can this illness be prevented?
As with many viruses, there's no vaccine for enteroviruses. However, since the virus is spread through close contact, there are some things you can do to keep your family healthy. Some of them may seem downright impossible with small children, which is why they're so susceptible to spreading and catching this and any other contagious infection. Here are the basics:
Wash your hands for 20 seconds (especially after going to the bathroom or changing diapers). Help younger children and remind older children of the importance of thorough hand washing with soap.
Clean and disinfect surfaces regularly touched by multiple people.
Disinfect children's school supplies, such as pencils, and encourage kids not to share them.
Stay home (or keep your child home) if you/your child is sick.
Avoid sharing eating utensils/cups or close physical contact with anyone who is sick.
Avoid touching your hand/nose/eyes/mouth/face with unwashed hands.