Occurring in the inner part of the prostate gland (called the periurethral gland), BPH is noncancerous growth that happens with age (and only if you have testicles). It's a very common condition, with 50 percent of men getting it by age 60, and 9 out of 10 men having it by age 85.

This very slow and progressive growth of the prostate happens when you experience a decrease in nitric oxide and an increase in oxidative stress (which can be caused by chronic infection and nutritional deficiencies, as well as the more common cell growth).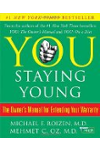 Continue Learning about Enlarged Prostate
Also known as benign prostatic hyperplasia (BPH), an enlarged prostate gland can cause urinary problems in aging men. If an enlarged prostate goes untreated, your urine flow can become weak or even blocked from leaving the bladder...
. These symptoms can lead to kidney and urinary tract problems.
More