Your energetic anatomy has four principal functions:
1. To absorb, distribute, and energize the physical body with prana
2. To serve as a mold or template for the physical body
3. To control, through the chakras, the proper regulation of prana in the physical body
4. To serve, primarily through the health rays and aura, as a protective shield for the physical body against energetic contamination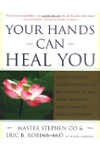 Continue Learning about Energy Work & Reiki
Reiki is a very specific form of massage therapy in which light touch is seeking access to your Universal Life Energy. It's designed to help speed healing, reduce pain, and decrease other symptoms you may be experiencing.