Four areas you shouldn't energize:
-The eyes. They are too delicate and can be damaged if they receive a strong dose of prana.
-The front heart chakra. It, too, can be damaged from a direct application of prana. There are some treatment sequences, though, in which you energize the heart through the back heart chakra.
The meng mein. The meng mein controls the blood pressure, and energizing it can raise your blood pressure to an unhealthful level.
The spleen chakra. This is connected to the meng mein chakra. Energizing it could stimulate the meng mein and cause the blood pressure to rise.

Additionally, never energize a pregnant woman's navel, sex, meng mein, or basic chakras unless you have personal guidance from an advanced pranic healer.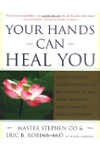 Continue Learning about Energy Work & Reiki
Reiki is a very specific form of massage therapy in which light touch is seeking access to your Universal Life Energy. It's designed to help speed healing, reduce pain, and decrease other symptoms you may be experiencing.