Pranic Healing is a more comprehensive and treatment-specific form of energy medicine than the two more contemporary systems, Reiki and Therapeutic Touch, and it is simpler to learn and easier to apply than the ancient, formal Chinese systems acupuncture and chi kung. Additionally, Pranic Healing includes teachings rarely found in other energy medicine systems, such as the detailed use of colored pranas and the practice of energetic hygiene.
Like Reiki and Therapeutic Touch, Pranic Healing teaches practitioners to feel for disturbances in the aura. But the Pranic Healing version of this tactile technique, called scanning, is more explicit and precise. For instance, Pranic Healing teaches several simple exercises that help students open and sensitize the chakras, or power centers, in the palms of their hands. This enables pranic healers to detect both congestion, an energetic blockage, and depletion, an energetic deficiency, as they move their hands over the body of a patient. Pranic Healing also includes two other hands-on techniques: sweeping, which is manually cleaning away congestion or dirty energy, and energizing, which is supplementing areas of pranic insufficiency. Reiki has no comparable sweeping technique, while Therapeutic Touch's unruffling is similar to but not as effective as sweeping. Unruffling resembles what is called in Pranic Healing distributive sweeping, or using the hands to move energy gently from one area to another. But Pranic Healing's sweeping provides more focused, complete removal of energetic congestion, primarily because pranic healers can use several types of hand motions in sweeping, depending on the location and "stubbornness" of the energetic blockage.
Energizing is much more detailed in Pranic Healing than in either Reiki or Therapeutic Touch, though it is still simple to learn. Both Reiki and Therapeutic Touch practitioners channel energy into the body of the patient, and there is some rudimentary targeting of the energy to areas where the patient has discomfort, or where the practitioner feels an energetic disturbance. In Pranic Healing, though, for each specific health problem there is a specific sequence for cleaning and energizing particular parts of the body and particular chakras so that the prana is utilized to maximum healing effect.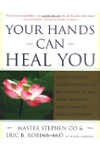 Although the initial experience may seem similar, Reiki practice is quite different than either pranic healing or Therapeutic Touch (TT). Pranic healing and TT are energy medicine modalities. They follow the medical model of diagnosis, design and then implementation of a treatment plan, followed by assessment. That is all done by a trained practitioner to a client with the determination to affect a specific treatment goal.
Reiki, by contrast, is a spiritual practice along the lines of meditation, yoga, and Tai chi. The Reiki lineage founder, Mikao Usui (1865-1926), formulated Reiki practice primarily for self-care, and Usui's system included many meditation practices. Unlike other spiritual practices, however, the hands-on practice can also be offered to others to gently encourage self-healing.
In five decades pursuing spiritual practice and studying natural healing, and 25 years practicing Reiki, I have found hands-on Reiki practice to be the easiest, most accessible practice. Hawayo Takata, the Reiki master who brought the practice from Japan to Hawaii with her Reiki master, Chujiro Hayashi in the late 1930s, often described it with these words: Hands on, Reiki [practice] on, hands off, Reiki [practice] off.
The Reiki practitioner can offer Reiki light touch to himself or another person without having to focus, concentrate, meditate, or come up with a diagnosis. At times of distress and even in an emergency, you can offer a Reiki hand while dialing 911 with the other hand, even if you are the injured person.
Most important, you don't need to be ill or injured to benefit from Reiki practice. The point of daily Reiki self-practice is to maintain wellness of body, mind, and spirit.
When there is a medical challenge, daily self-practice (or Reiki practice received from family, friend, or professional) will support any conventional, complementary, or alternative treatment needed, without interference. Rather than targeting a disease or symptom, Reiki practice is simply balancing to the whole person. Being more balanced means people feel better and heal better, even as they undergo needed, but arduous, conventional medical treatment such as surgery or chemotherapy.
Continue Learning about Energy Work & Reiki