Your body is made up of some 75 trillion cells. And the health of your body is entirely dependent on the health of those cells. They're the workhorse that produces the energy that runs your body. If your cells are lean, mean, fighting machines, then guess what? You're a lean, mean, fighting machine. If, on the other hand, your cells are polluted and weighed down with all kinds of toxins, then they're going to be tired and so are you.
In fact, nothing can better predict your sense of wellbeing, your level of energy, and even your weight than those teeny, tiny cells that you can't even see without a microscope.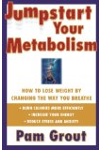 Continue Learning about Energy Boosters

Do your energy levels dip during the day? From food and drinks to exercises and vitamins, we've got the causes and treatments that can help you boost and maintain your energy all day.