Understanding the energy density of foods and using it to guide eating choices can help people eat the way the research suggests they should be eating -- not only for weight management, but for optimal health.
Here's a simple method for determining the energy density (calories per gram) of foods you buy in the supermarket:
Look at the Nutrition Facts Label on the food package.
Find the serving size weight in grams and the calories per serving.
If the calories are a smaller number than the grams, the food has low energy density. Feel free to enjoy satisfying amounts of that food.
If the calories are equal to, or twice as much, as the grams, eat moderately and watch your portion size.
If the calories are more than twice the grams, limit your portions.
You'll discover that dry foods, like crackers, have high energy density (calories more than twice the grams). Surprisingly, fat-free pretzels have the same energy density as cheese. Munching on these without controlling your portions can quickly add weight.
Do a little pre-planning. Fill snack baggies with cut-up vegetables or cut-up melon, strawberries or any fruit and line them up in the refrigerator so you can just grab them to go for lunch or snacking on the run.
To add fiber and lower energy density, look for breads with at least three grams of fiber per serving and cereals or starches with at least five grams of fiber per serving. In recipes, use smaller amount of potatoes and using more vegetables like green beans, spinach, cauliflower, peppers, mushrooms and zucchini.
In a nutshell, energy density refers to the number of calories in a particular volume or weight of food. High-energy density foods, such as an apple fritter, pack a lot of calories per bite; conversely, low-energy-density foods, such as a regular apple, contain fewer calories per bite. Bite for bite, or ounce for ounce, you'll consume more calories -- not all of which will be necessary to sustain your body's needs and keep your energy running on high. In other words, high-energy-density foods can sabotage your efforts to optimize your energy.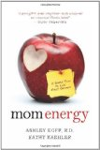 More About this Book
Mom Energy: A Simple Plan to Live Fully Charged
       From celebrated dietitian Ashley Koff and fitness trainer to the stars Kathy Kaehler comes Mom Energy, an exciting new way for moms to tap into their own natural and renewable sources of...
Continue Learning about Energy Boosters