Tibetan yogic exercises and Mentalphysics exercises are well known to help energize the shakras of the body and help vitalize and rejuvenate your body. Adding these forms of exercise into your program will help increase your energy levels and promote high levels of well-being and vitality.
The last of the six steps to self-healing is a pair of energy-generation exercises that are the crown jewels of such exercises. The first is called the Tibetan Yogic Exercises, though it is also known as the Rejuvenation Rite. The second is called the Mentalphysics Exercises.
There are better-known energy-generating exercises, including some forms of yoga, different types of breathwork, chi kung, and tai chi. But none offers the rapid prana-generating potential, or are as easy to perform as the Tibetan Yogic Exercises and Mentalphysics Exercises. This isn't to say, though, that the Tibetan Yogic Exercises and Mentalphysics Exercises are completely unknown. Both are practiced by people today, though knowledge of the Tibetan Yogic Exercises is more widespread. What isn't known, however, is exactly why these exercises are so effective. Very few people - and virtually no one aside from those who have taken a special class from Grandmaster Choa Kok Sui - know that a series of simple modifications makes these routines even more powerful, easier, and quicker to perform.
Both the Tibetan Yogic Exercises and the Mentalphysics Exercises are part of that larger body of ancient esoteric root teachings that spiritual masters and teachers throughout history, such as Grandmaster Choa Kok Sui, have passed on to their students. They are a powerful addition to your health routine because they drive prana from the lower chakras to the upper chakras, distributing this energy more easily throughout the body and helping regenerate it. The Tibetan Yogic Exercises have the added benefits of drawing down tremendous amounts of spiritual energy and physicalizing it into the body, as well opening the body's two main prana pumping stations: the neck and the lower back.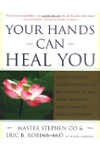 Continue Learning about Energy Boosters