Each one of your 75 trillion cells is a full-time chemical processing plant. While you're watching "Oprah" or playing the piano or even taking a catnap before dinner, those little dynamos are busy processing literally thousands of chemical reactions. They work twenty-four hours a day, seven days a week. They don't get weekends or vacations. They slave away night and day to turn these numerous chemical reactions into energy.
And while you may think this energy is used only for such physical outbursts as opening and closing your refrigerator door or chasing your toddler out of the pile of toilet paper he just unwound in the bathroom, the truth is that the energy your cells produce is also used for operating your kidneys, growing your hair, and sloughing off dead skin on your elbows. In fact, 75 percent of the work your cells do has nothing to do with physical activity. It has to do with simply maintaining your body. As you can see, your cells have a pretty heavy load to carry. They have full-time responsibility for doing all the millions of things that body's do - patching up bloodied knees, turning carbohydrates into glucose, moving blood from Point A to Point B.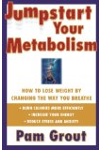 Continue Learning about Energy Boosters

Do your energy levels dip during the day? From food and drinks to exercises and vitamins, we've got the causes and treatments that can help you boost and maintain your energy all day.