From thyroid issues to anemia and plain old digestive disorders like constipation and irritable bowel, the state of your health in every system of your body will dictate the state of your energy level. When there's a bleep in an organ, tissue, system, or group of cells, there's a misfire that culminates in an inefficient metabolism. Just one minor deficiency or miscue happening in the body can trigger a cascade of troubles that result in energy depletion. It's hard, in fact, to be low on energy if your body is operating perfectly and there are no hidden health challenges.

When you don't give the body the excuse to downshift, it won't. But when there's a health issue to address and the body needs to fight a germ or make up for a dysfunction somewhere in the whole system, then you will certainly feel it. Your energy will be limited as your body uses all it can to heal, protect, and consolidate its resources, so the ones that are required to keep you alive are still available no matter what. The body doesn't necessarily care, for instance, that you feel energetic. It just wants to maintain its non-negotiable systems of survival such as your heart and lungs.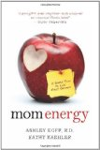 More About this Book
Mom Energy: A Simple Plan to Live Fully Charged
       From celebrated dietitian Ashley Koff and fitness trainer to the stars Kathy Kaehler comes Mom Energy, an exciting new way for moms to tap into their own natural and renewable sources of...
Continue Learning about Energy Boosters