The morning is the best time of the day for energy work. The prana is fresher, and you're fresher energetically. Additionally, energy work is a good way to start your day. Thus, if you have only one time of the day for breathing, meditating, and self-healing, it should be the morning. Of course, if you have a schedule that makes it difficult for you to practice in the morning, or if you're not a "morning person," the routine still works any time you practice it. But we recommend that you try to do your energy work in the morning.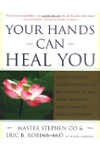 Continue Learning about Energy Boosters

Do your energy levels dip during the day? From food and drinks to exercises and vitamins, we've got the causes and treatments that can help you boost and maintain your energy all day.