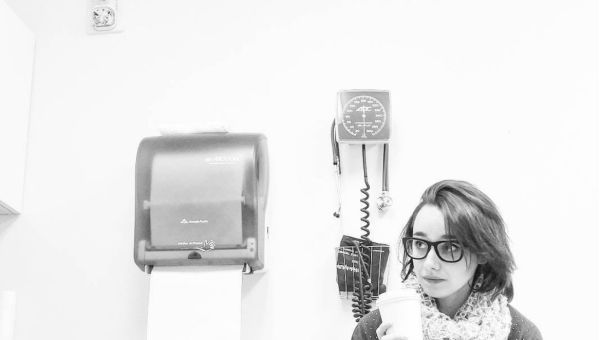 A long health journey can often lead to self-discovery.
1 / 6
When Abby Norman, 27, of Camden, Maine, started sharing her story, she never imagined the response she'd get. After all, she was just talking about her personal health journey—specifically her menstrual health. But many would call Norman a trailblazer when it comes to conversations surrounding women's reproductive well-being.
She has endometriosis, a condition that causes the lining of the uterus to grow outside of the uterus, usually on the ovaries or fallopian tubes. And Norman's journey to a diagnosis was not a pretty one. In her book, Ask Me About My Uterus: A Quest to Make Doctors Believe in Women's Pain and in her column on Medium.com, she shares her story, one she could have never anticipated. Her hope is to create a space for a lot more of these narratives by doing so.
Norman first told her story at the Stanford Medicine X conference in 2015. After receiving such positive feedback from patients and experts alike, writing a book seemed like a logical next step.
We spoke with Norman about her book and women's health: her diagnosis of endometriosis, why hysteria has plagued the world for centuries, why women have a hard time speaking up about their symptoms and what she hopes for the future in regard to the woes of womanhood.
Photo credit: Abby Norman
Medically reviewed in May 2018. 2 / 6

Norman's endometriosis story

As Norman so vividly describes in her book, her endometriosis diagnosis was certainly not instantaneous.

At age 19, Norman was otherwise having a normal day in the life of a Sarah Lawrence College sophomore, until she collapsed in the middle of a shower due to excruciating lower abdominal and pelvic pain. That was the start of a very long journey, one that she's very much still living.

After her fall, she spent weeks in the hospital, taking a medical leave of absence from college. She lost 40 pounds and was unable to keep her dance scholarship, causing her to drop out completely and return to Maine where she grew up.

After an exploratory procedure, doctors told her that she had endometriosis, a condition that can bring about severe pelvic pain, uncomfortable and heavy periods and infertility. Endometrial cysts had shifted her ovary. During the surgery, the cyst was drained, but not removed. This experience prompted Norman to do her own research about the way women are treated when it comes to pain and reproductive issues.

Norman has also learned that the endometrial tissue was on her bladder and her bladder and uterus are bonded together. She has also dealt with many health conditions that could be related to endometriosis, too. Her body is weak and on any given day, she's usually in pain.

She's had surgeries, hormone treatments and tried a slew of lifestyle changes to help reduce the pain and discomfort, but there is no cure for endometriosis. Every day brings new challenges. 3 / 6

What it's like to have endometriosis

Although endometriosis symptoms can vary from woman to woman, Norman feels like she's experienced it all. And while she works hard to manage her symptoms, the pain is still very real.

Pelvic pain—sometimes so bad that it shoots down her lower back and legs—can start at any time of day, even when she tries to eat or go to the bathroom. More intimately, sex and self-pleasure cause her severe discomfort and bleeding. She has come to terms that sex is never going to be pleasurable. The pain is usually present when Norman attempts to exercise, too, and when she's done, her workout session usually ends with dizziness and nausea. To combat the pain on a day-to-day basis, she swears by heating pads and warm baths.

In addition to physical pain, Norman has periods of anxiety—especially when visiting a new doctor or even scheduling routine appointments like Pap tests. Depression also creeps in too. These mental and emotional struggles are something she works on daily and will for the rest of her life.

"Anyone who is experiencing chronic pain or living with a chronic condition, even if it's not reproductive health related, understands that you spend so much of your time problem solving and planning to live your life," says Norman. For her, it's a constant battle of trying to treat her endometriosis symptoms, like pain and bleeding, without making another condition worse. 4 / 6

Norman's thoughts on hysteria

Norman has sat in many doctor's offices, and unfortunately, she's had her fair share of hysteria conversations. Perhaps the first mental disorder attributable to women some 4,000 years ago, hysteria is defined as uncontrollable emotion.

Although Norman feels many of her doctors classified her as having hysteria, she also admits that not all of her doctors were trying to be offensive. "It's not necessarily that it was intended to be malevolent in any way. I think that they were just incredibly frustrated that they didn't have the answer, and they may have been even a little embarrassed about that."

While some would argue that the hysteria stereotype doesn't exist anymore, biases regarding women's emotional well-being can still affect medical decisions. In fact, one systematic review found that healthcare professionals are just as prone to bias—including gender bias—as the general population, and in some cases, it leads to a lower quality of care, something that Norman is very familiar with. It's been documented that women don't receive the same quality of care that men do when it comes to things like heart disease and type 2 diabetes. Women have long been underrepresented in research, too. 5 / 6

Why women should start talking about their health issues

Until very recently, the societal expectation is that women should hide their menstrual cycles—the bleeding, pain, fluctuation of hormones and emotions. Women have been taught that they shouldn't openly talk about these issues, says Norman. Other emotional and physically taxing issues like miscarriage, pregnancy, childbirth and menopause are among the list of no-no's as well.

"I remember that when I was at a friend's house, I had to make sure that if they had a brother or their dad was around, they couldn't know I was menstruating. And if I was at school, it was very hush-hush," says Norman.

Her periods were always terrible—there was lots of bleeding and the cramping was almost unbearable. But even so, she felt she had to hide it. That is, until she had enough.

Norman has started speaking out—in her book, on panels, in numerous magazines and for online publications—and she's encouraging other women to do the same. "Telling your story can help you heal and can also help someone else who's dealing with the same, or similar, issues."

Her advice? "If something that's a part of our identity has been threatened, whether it be by endometriosis, ovarian cancer or anything else that makes us feel like our own bodies are turning against us, it's really important to acknowledge." 6 / 6

What's next for women

Although we have a long way to go, conversations about women's issues—specifically those surrounding reproductive health—are becoming more prevalent, thanks to people like Norman.

Here's how Norman recommends you continue the conversation:

Acknowledge what you're going through: One of the ways women can encourage further research on women's health is to speak out about their own experiences. "We're certaintly struggling with the reality of having to wrangle what these organs do or don't do throughout our life, so let's discuss it," says Norman.

Whether you speak with a therapist, a close friend, a family member or even an online message board filled with other women, address your issues, ask questions and keep an open dialogue.

Trust your instincts: Norman says to remember that you are the only person who knows what's it's like to be in your body, how it changes or how it doesn't. So when you're trying to get the care that you need and you feel that someone (a spouse, doctor or friend) is telling you that you're misinterpreting your body, remember that what you're feeling is real.

Put yourself first: As cliche as it sounds, it's important for women to take care of themselves before taking care of others. Too often, many women push their own needs to the side for other people. Self-care doesn't always involve bubble baths and manicures. In addition to pampering, here are some other ways you can take care of yourself:
Get rid of whatever causes you stress or anxiety. Ditch things like gossip and social media, and spend a few minutes meditating or practicing deep breathing instead.
Get outside, whether it's a walk around the block or a five-minute meditation session. One 2010 study by University of Essex researchers shows that just five minutes of exercising outdoors can increase your self-esteem and mood.
Keep track of compliments. Start a journal and write down the nice things that people say to you. When you're in need of a pep talk, read through your list.
The bottom line is that women's health is important. No matter what you're going through, find a support system and use it. Never stop voicing your concerns and or sharing your story.