Phytoestrogens are estrogens from plants. Some women eat specific foods that contain phytoestrogens to get the estrogenic effects. The food most commonly known to contain phytoestrogen is soy, but beans, peas, lentils, and whole grains and seeds, especially flaxseed, rye, and millet, also contain these plant estrogens.
We have relatively little evidence to support claims for the effectiveness of phytoestrogens and even less information about their safety. Alternatives like these are much less likely to be studied in formal research trials than drugs are, but there are some data from both observational and randomized controlled trials. Some studies have shown that eating foods with phytoestrogens provides modest relief from hot flashes, and some studies have found that eating phytoestrogens causes changes in vaginal cells, which are similar to the changes caused by taking estrogen, and could relieve discomfort.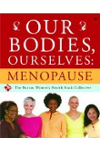 More About this Book
Our Bodies, Ourselves: Menopause
FROM THE EDITORS OF THE CLASSIC "BIBLE OF WOMEN'S HEALTH," A TRUSTWORTHY, UP-TO-DATE GUIDE TO HELP EVERY WOMAN NAVIGATE THE MENOPAUSE TRANSITION For decades, millions of women have relied on Our...
Continue Learning about Endocrine System
Your endocrine system works with your nervous system to control important bodily functions. The endocrine systems responsibilities include regulating growth, sexual development and function, metabolism and mood. The endocrine syst...
em also helps give your body the energy it needs to function properly. Endocrine glands secrete hormones into the bloodstream. Hormones are considered chemical messengers, coordinating your body by transferring information from one set of cells to another. Your endocrine system health can be affected by hormone imbalances resulting from impaired glands. A hormone imbalance can cause problems with bodily growth, sexual development, metabolism and other bodily functions. Endocrine system diseases or conditions include diabetes, growth disorders and osteoporosis.
More