Growth hormone (GH) does more than just stimulate growth and cell reproduction; it also refreshes cells, restores skin's elasticity, and enhances the movement of amino acids through cell membranes. Growth hormone aids in your ability to maintain an ideal weight, too, effectively telling your cells to back off on using carbs for energy and use fat instead. Without adequate sleep, GH stays locked up in the pituitary, which negatively affects your proportions of fat to muscle. Over time, low GH levels are associated with high fat and low lean muscle.

Growth hormone affects almost every cell in the body, renewing the skin and bones, regenerating the heart, liver, lungs, and kidneys, and bringing back organ and tissue function to more youthful levels. Growth hormone also revitalizes the immune system, lowers the risk factors of heart attack and stroke, improves oxygen uptake, and even helps prevent osteoporosis.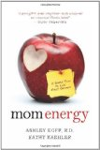 More About this Book
Mom Energy: A Simple Plan to Live Fully Charged
       From celebrated dietitian Ashley Koff and fitness trainer to the stars Kathy Kaehler comes Mom Energy, an exciting new way for moms to tap into their own natural and renewable sources of...
Continue Learning about Endocrine System