The following are some of the claims of hormone therapy:
Proven claim: There is evidence that taking hormones at menopause reduces hot flashes and night sweats and relieves vaginal dryness. There also is reliable evidence that shows that hormone treatment delays bone density loss and reduces the risk of fractures. The combination of estrogen and progestin has also been shown to reduce the risk of colon cancer.
Unproven claim: Although health care providers and women have become more cautious, and even skeptical, about unproven claims for hormone treatment, some people continue to believe that hormone treatment has certain benefits, even though this belief is not backed up by scientific evidence.
Estrogen or combined estrogen and progestogen treatment has not been shown to:
Decrease the risk of stroke
Decrease the risk of heart attacks
Prevent wrinkles or other natural signs of aging
Reduce urinary incontinence
Relieve moodiness or depression
Improve sexual desire or responsiveness
Improve overall memory
Help sleep or increase energy in women who do not have hot flashes
Prevent Alzheimer's disease or other conditions that cause dementia
Improve the overall quality of life
Relieve joint pain
Women whose health care providers recommend hormone treatment for these reasons may want to seek other sources of information.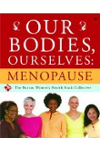 More About this Book
Our Bodies, Ourselves: Menopause
FROM THE EDITORS OF THE CLASSIC "BIBLE OF WOMEN'S HEALTH," A TRUSTWORTHY, UP-TO-DATE GUIDE TO HELP EVERY WOMAN NAVIGATE THE MENOPAUSE TRANSITION For decades, millions of women have relied on Our...
Continue Learning about Endocrine System