During the reproductive stage, the follicle stimulating hormone (FSH), from the pituitary gland in the brain, signals the ovaries, at the start of every period, to produce more estrogen for the development of the ovarian follicles. FSH acts as a thermostat. When FSH rises, the amount of estrogen produced by the ovaries increases, and when estrogen levels reach a certain limit, FSH decreases.As women approach their final menstrual periods, the number of ovarian follicles targeted by the FSH each cycle is much greater than the reproductive stage. This leads to a sharp drop in the number of follicles available for future development, ovulation, and pregnancy. The rapid development of a greater number of follicles also can result in the production of extra-high levels of estradiol, the most active form of estrogen, for some months or years. This rapid development of follicles is also linked to rising levels of FSH. FSH levels increase gradually until the year or two preceding the last menstrual period, after which they increase rapidly.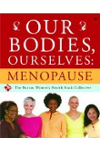 More About this Book
Our Bodies, Ourselves: Menopause
FROM THE EDITORS OF THE CLASSIC "BIBLE OF WOMEN'S HEALTH," A TRUSTWORTHY, UP-TO-DATE GUIDE TO HELP EVERY WOMAN NAVIGATE THE MENOPAUSE TRANSITION For decades, millions of women have relied on Our...
Continue Learning about Endocrine System