Androgens are often thought of as male hormones, but women produce androgens in their ovaries and the adrenal cortex. The adrenal cortex comprises the outer layer of cells of the adrenal gland, located next to our kidneys. The adrenal gland secretes several hormones that our bodies convert into androgen. Some of these hormones are dehydroepiandrosterone sulfate (DHEAS), dehydroepiandrosterone (DHEA), and androstenedione. The ovaries also produce the hormone testosterone. Testosterone levels do not change dramatically during the transition to menopause, although they do decrease with aging. DHEAS levels also decrease with age in both women and men. DHEAS can be metabolized to either a potent androgen or to estrogen, providing an adrenal source of androgen and estrogen for women after menopause. Androgens are responsible for male-appearing sexual characteristics, such as hair growth and distribution on the body, muscle growth, and deepening of the voice.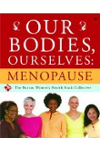 More About this Book
Our Bodies, Ourselves: Menopause
FROM THE EDITORS OF THE CLASSIC "BIBLE OF WOMEN'S HEALTH," A TRUSTWORTHY, UP-TO-DATE GUIDE TO HELP EVERY WOMAN NAVIGATE THE MENOPAUSE TRANSITION For decades, millions of women have relied on Our...
Continue Learning about Endocrine System