Estrogen can be delivered through the skin in the form of a patch, gel or creams. New studies indicate that transdermal application of bio-identical estrogen is a lot safer than oral estrogen. For more info read my book Fenale Brain Gone Insane www.mialundin.com
Hormone treatment can also be administered through the skin. One way to do this is by using a skin patch, which adheres like a piece of Scotch tape. A woman places the patch on her lower abdomen or buttocks. The patch sticks strongly enough to not fall off during swimming, bathing, or other contact with water. But the strong adhesive may have a downside: some women find that the skin becomes irritated at the place where they apply the patch. There are both estrogen-only and combination hormone patches available.
Two Food and Drug Administration (FDA)-approved gels called Estrasorb and EstroGel are applied to the skin. The EstroGel label instructs women to apply it on the arm; the Estrasorb instructions suggest application to the legs. There is little published research on the safety or effectiveness of these products, although one 12-week study of EstroGel found that it was effective at a 1.25 g daily dose for treating moderate-to-severe hot flashes.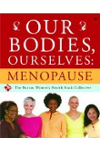 More About this Book
Our Bodies, Ourselves: Menopause
FROM THE EDITORS OF THE CLASSIC "BIBLE OF WOMEN'S HEALTH," A TRUSTWORTHY, UP-TO-DATE GUIDE TO HELP EVERY WOMAN NAVIGATE THE MENOPAUSE TRANSITION For decades, millions of women have relied on Our...
Continue Learning about Endocrine System