Women who choose standard hormone therapy during natural (nonsurgical) menopause typically take estrogen and progestin, a man-made verison of progesterone. It can also ease vaginal symptoms of menopause, such as dryness, itching, burning and discomfort with intercourse. Long-term hormone therapy for the prevention of postmenopausal conditions is no longer routinely recommended. But women who take estrogen for short-term relief of menopausal symptoms may gain some protections against osteoporosis, colorectal cancer and heart disease. The decison to use hormone replacement therapy is one that should be discussed with your health care provider.
There is no single answer to the question, should I or shouldn't I take hormones? Hormone treatment has been proven to relieve hot flashes and vaginal dryness and to prevent fractures. There are other medicines to prevent fractures, but hormone treatment is the only medicine that is Food and Drug Administration (FDA) approved to treat hot flashes and vaginal dryness. Yet it has also been proven to increase the risk of serious illnesses. For the majority of women who go through the menopause transition without experiencing problems severe enough to interfere with their lives, the risks of hormone treatment outweigh the benefits. It is clear now that the routine use of hormones in healthy women during or after the menopause transition, which was once commonplace, is not recommended. Women who experience severe hot flashes or vaginal dryness may want to consider hormone use, but it is recommended only for the shortest possible time and at the lowest effective dose. Each woman must weigh the risks and benefits to determine whether hormone treatment is appropriate for her.
It is important to know that there is no medical reason to treat menopause. It is a natural and normal stage of our lives. Women who are not experiencing hot flashes or other bothersome physical changes do not need a prescription for hormone treatment, or any other drug, simply because they have reached menopause.
The benefits of hormone treatment in the short term may outweigh the risks for women who are experiencing moderate-to-severe hot flashes and night sweats and who cannot find relief in another way. If you are considering taking hormones for a purpose other than relief from hot flashes or vaginal dryness or prevention of fractures, you should know that hormone treatment has not been proven to be effective for any other purpose.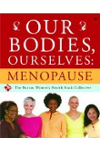 More About this Book
Our Bodies, Ourselves: Menopause
FROM THE EDITORS OF THE CLASSIC "BIBLE OF WOMEN'S HEALTH," A TRUSTWORTHY, UP-TO-DATE GUIDE TO HELP EVERY WOMAN NAVIGATE THE MENOPAUSE TRANSITION For decades, millions of women have relied on Our...
Continue Learning about Endocrine System
Your endocrine system works with your nervous system to control important bodily functions. The endocrine systems responsibilities include regulating growth, sexual development and function, metabolism and mood. The endocrine syst...
em also helps give your body the energy it needs to function properly. Endocrine glands secrete hormones into the bloodstream. Hormones are considered chemical messengers, coordinating your body by transferring information from one set of cells to another. Your endocrine system health can be affected by hormone imbalances resulting from impaired glands. A hormone imbalance can cause problems with bodily growth, sexual development, metabolism and other bodily functions. Endocrine system diseases or conditions include diabetes, growth disorders and osteoporosis.
More