Men who get pedicures may think they have some female hormones. In fact, all men have them—and it turns out that they're beneficial to all of us. Female hormones increase levels of HDL "good" cholesterol, whereas male hormones lower HDL cholesterol. The much higher levels of estrogen in women may partly explain why they avoid the hardening of arteries until later in life, but many experts believe the decreased life expectancy of men is related to testosterone poisoning.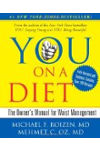 Continue Learning about Endocrine System
Your endocrine system works with your nervous system to control important bodily functions. The endocrine systems responsibilities include regulating growth, sexual development and function, metabolism and mood. The endocrine syst...
em also helps give your body the energy it needs to function properly. Endocrine glands secrete hormones into the bloodstream. Hormones are considered chemical messengers, coordinating your body by transferring information from one set of cells to another. Your endocrine system health can be affected by hormone imbalances resulting from impaired glands. A hormone imbalance can cause problems with bodily growth, sexual development, metabolism and other bodily functions. Endocrine system diseases or conditions include diabetes, growth disorders and osteoporosis.
More